---
these are certainly some wild times we're living thru right now. i feel almost strange posting anything other than supportive, aspirational quotes and images or resources for learning more about racism and white priviledge, protests, and lessons that i have personally come to face in my own life. as usual, i'm always the one to be very highly opinionated on the politics of our failure of a president but i've tried to keep that activism to my instragam and off of this blog which i see as inspiration for my work and for my clients and followers.
i've been meditating lately on the idea that in order to swim and not sink with the heaviness of it all, we have to keep our eyes on the prize. one day, we will go back to a new normal, our lives will resume again, and we will be forever changed in the way that we live. if we focus on the future and find gratitude daily in our present, we will get thru this and come out stronger than we were before.
it's all starts from within and (i believe), the requirement for each of us to slow down in order to face the shadows that subtly or not so subtly weigh upon us so that we don't play that trauma out on everyone around us. it's so wonderful to see so many resources talking about this very necessary fact during these difficult times. please know i am battling, too, and that i truly love my clients and followers. i'm here to talk, anytime!
so onward...
some of you may be asking yourself why would i need a bridal stylist so i wanted to write a bit about what it means and how i can help you. (wedding photos by the incredibly talented anna alexia basile.)
a bridal stylist can be your second eye for everything you need on your special day. a bridal stylist can help you fine tune what you're looking for in a wedding dress but also keep your eyes open to what else might look great on you. a stylist knows how to dress different body types and when it comes to a wedding dress there are a lot of nuances that make it different from buying a normal dress. so a bridal stylist can help you pick a dress that will flatter your body the most while also bringing your vision to life.
when i work with clients picking out a wedding gown, i can help point them immediately in the direction of certain designers that i know will resonate with their taste and vision and cut out a lot of the mad dash search or freak-out when they're overwhelmed with all the possibilities and planning. here are some photos from my incredibly inspiring, longtime close friend,
vanessa chiu
, and her wedding dress journey and celebration from february... who knew that this would be our last party of 2020!
with the help of a perf assistant at loho bride, we were able to communicate our vision.
vanessa landed on this toni maticevski dress literally first try! she had another dress that she'd purchased, but through a few conversations, i convinced her that doing some in-person shopping is always a good idea. vanessa is a low-key kind of gal but wedding photos are forever so taking extra time on the dress was something that she'd not regret. i can be pretty persuasive in a gentle way (ha!) and thankfully she listened to me. she LOVED her final dress pick!
another thing a bridal stylist can do is help pick out all the accessories to go with your dress. so that's very important, too, because shoes, or whether a veil, flowers or headband/hat, a cape or coat are really so important to make you feel your most confident self on your wedding day.
a bridal stylist can also help you with second looks for the dance floor or after-party or what you wear to brunch the next day. and these are all details that a bride who literally has every single other thing on her plate can transfer to someone like me who works only with clothing and can help to facilitate all of her ideas.
another thing to consider when hiring a bridal stylist that they be there on the big day of your wedding to help you style your wedding photos. is your hair out of place or is your dress or coat crumbled, does your hand need to be softened or your neck elongated? these are all things that, while a photographer is really good at doing, they are looking at the big picture while the photographer is looking at the photo itself. they are looking at the scene. they're worried about their equipment, the lighting, shadows. they're worried about all of the stuff that's important in taking of the photograph itself. the bridal stylist can work with the photographer to curate your wedding photos so that they come out beautifully. and that is probably one of the biggest things that's really helpful, to help you to relax during the process so that you feel more comfortable or a little bit more natural and this will resonate in your photos.
a bridal stylist can also carry things from location to location, details like that. so a bridal stylist is someone that you can have in your court to feel your most confident self and create the best wedding photos on your wedding day. this can even extend to your engagement photos to help you pick the perfect outfit and help make you your most confidant, luminant self.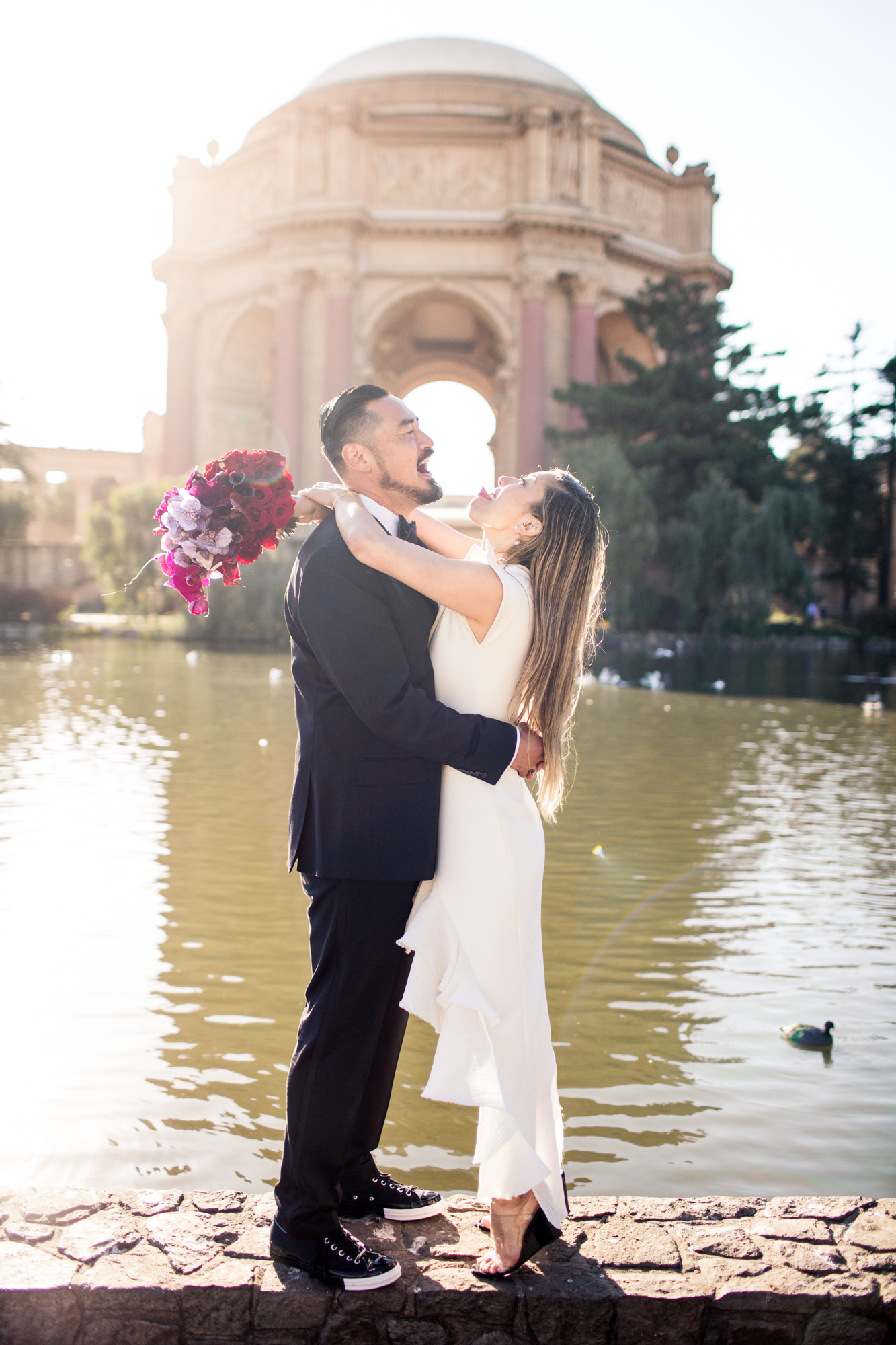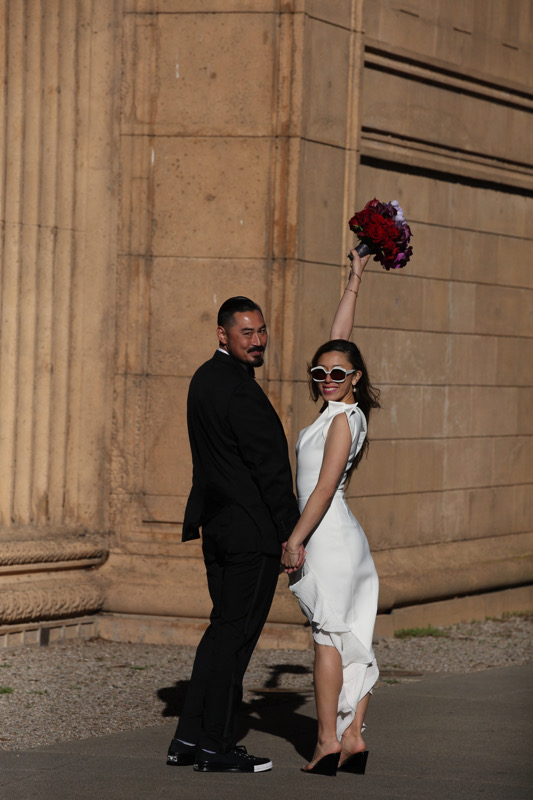 their perfect natural selves... you know i was making them laugh during this shoot!
and how handsome is her hubby, nich?!? omg!
more anna alexia photo perfection...

the work of a bridal stylist can also extend much past the bride. the fashion these days is that an ensemble wedding party can be created, with dresses that coordinate and flatter each member of your party. this is when things get really exciting. gone are the days of a 'one dress for all approach', instead ombre and glittering pops can be implemented to truly give depth to your wedding party. it's really so much fun!
"don't smile too wide, relax your jaw, shoulders down...tilt your head slightly, a little to the left..."
😂️😂️😂️
so, while it feels like we'll never be back to normal, we will. after this hardship, there will be growth and new ways. life will go on in a new, more compassionate and conscious direction. this i believe with all my heart.
i'm sending positive vibes and good thoughts to all the brides (and wonderful women out there). i feel for all of you whose plans and dreams must be put on hold or shifted slightly but i'm confidant that love is the answer and the universe has a beautiful plan for all of us, if we're open to it.
lots of love,
mira